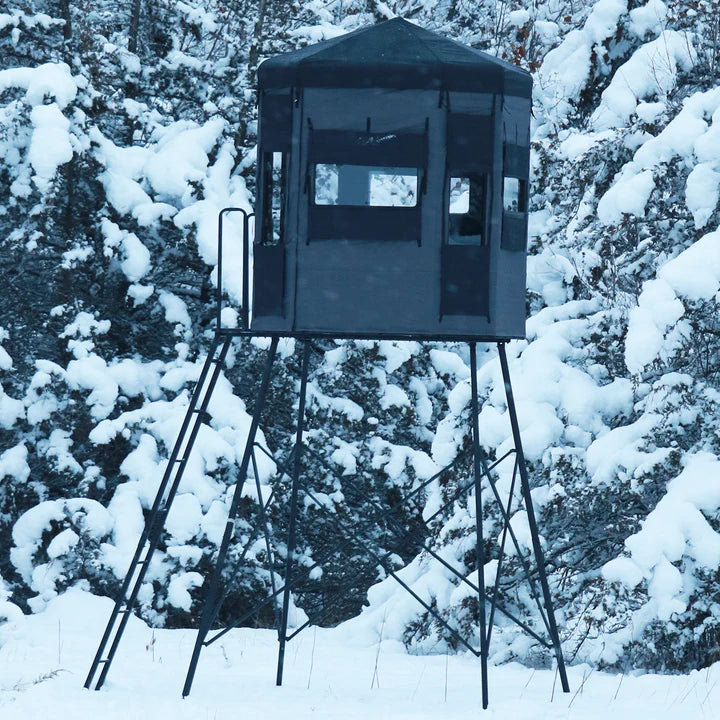 Greylight Twilight Blind - NEW Soft Sided Hybrid Hunting Blind
Greylight Blinds (formerly Xenex Blinds) introduced an impressive player in the Soft Sided Blind category at this years Archery Trade Association show. The Twilight Blind comes with a 10' tower or can be used as a ground blind.
From greylightblinds.com : The Twilight Blind with 10' tower provides a spacious, comfortable, elevated perch for hunters of all types. The unique combination of weather sealed Plexiglass windows that operate on frictionless hinges, along with external adjustable fabric concealment panels enable you to customize your window size.
What we saw in this Greylight Twilight blind was impressive. Greylight has brought a plexiglass window with excellent hinges into the soft sided blind category. At The Hunt Works, we've sold soft sided blinds to many very happy customers but there have always been some folks that wanted more than a zippered fabric window. The Greylight Twilight blind will appeal to those customers. We see it as a true Hybrid between popular soft sided blinds such as the Millennium Buck Hut and the hard sided blinds like Banks, Redneck and Grizzly.
The Greylight Twilight Blind offers plenty of room for multiple hunters at over 6 foot diameter and over 7 foot tall. Plus the quilted insulative fabric will key you warm and protected from the elements. 
We're happy to add this to our lineup and will be taking Pre-Orders expecting a Jun '23 delivery.