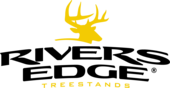 Rivers Edge Stands
We just received a truck load of Rivers Edge Hang-On and Ladder stands. Rivers Edge has been making awesome stands for years and we're proud to offer them to our customers.
The Hang-Ons are the Big Foots.... the Rogue XL, the Brute, and the Tear tuff XL Lounger. 
BIG FOOT™ HANG-ONS
Nothing attaches to a tree tighter than a Big Foot™ Hang-On! Our line of lever-action hang-on stands bite into the tree eliminating the need for a second strap. Feel the stability of a Big Foot™ Hang-On for yourself!
Rivers Edge provides generous platforms, long lasting seat material, and solid construction at great pricing.
The Rivers Edge Lockdown Wide Ladder Stand we have in stock is a brute! Put this thing in your favorite spot because you'll want to sit there even more and for as long as you can.
LOCKDOWN™ LADDER STANDS
Lockdown™ Treestands provide unmatched comfort and long-lasting durability. They are built for all day hunts and provide the most comfortable seat in the woods.