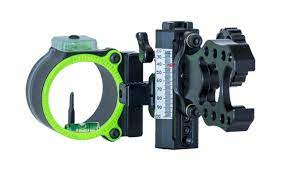 Black Gold Ascent Whitetail Sight
Original price
$209.99
-
Original price
$219.99
BLACK GOLD ASCENT WHITETAIL SIGHT
The Black Gold Whitetail Bow sight is made for one thing, bowhunting whitetails.  Fast target acquisition is crucial for the whitetail bowhunter, and having a quick lightweight sight is a priority. And that's exactly what you get from the Black Gold Ascent Whitetail sight. 
NEW! Short X-Frame Base. Just 2 5/8" long!
1 3/4" housing
1 pin or 3 pin, machined, bombproof all metal, micro groove, micro dot (.019)
Legendary Black Gold dial adjustment system
Ultralight adjustable sight. just 7.7oz!
1st and 2nd axis adjustment
Fast, simple and affordable!!
 Available in a single up pin or 3 pin
Rear facing sight tape
High performance Photochromic Shell is 80% tougher and changes color faster
Large adjustable level is easy to see and set
54 Sight tapes included

Interchangeable Fluorescent guard rings for fast sight acquisition

Dial adjustment system gives target sight accuracy to bowhunters

More range and adjustability than traditional hunting slider sights

Exclusive first axis adjustment keeps sight dialed in at long ranges

Works great with one piece quivers (unlike most slider sights)

Designed to accommodate computer generated sight tapes

Quick, smooth and quiet adjustment