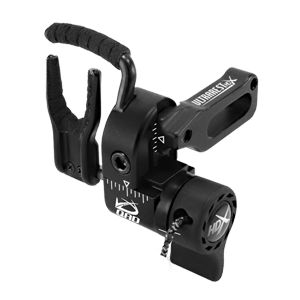 QAD HDX Ultrarest
Sold out
Original price
$155.95
-
Original price
$183.55
This top of the line UltraRest has all the features of the UltraRest HD, with an eXtreme edge for the die hard hunter! The new modern design and sleek styling of the UltraRest HDX offers eXtreme compatibility, versatility, and even custom colors! If you are the archer that demands nothing but the top of the line, with all the bells and whistles, then the new UltraRest HDX is for you!
Sleek, curved capture bar for more clearance
Total arrow containment
Convenient thumbwheel cocks launcher into position (with Timing Cord Lock)
Noise-reducing design: laser-cut felt, cam-brake and dampeners
Break Away Safety Feature
Vertical, horizontal, and overdraw adjustments
Precision CNC aluminum, stainless steel, and delrin components
Full draw indicator marks
Available in right or left hand
VELOCITY DROP-AWAY TECHNOLOGY™
TOTAL ARROW CONTAINMENT
CAPTURE – 80°
When nocking an arrow, cock the ULTRAREST™ into the arrow capture position via the thumbwheel and then forget it. Once the arrow is loaded it will keep it silent and fully contained!
Now you can focus on that life-time shot instead of worrying about the arrow.
ALWAYS READY TO SHOOT
FULL DRAW – 90°
The ULTRAREST™ knows to drop-away ONLY when the bow is fired, not at slow let-down. If you draw back and can't get that "perfect shot", let down, and the launcher remains in the capture position, keeping your arrow fully contained.
TOTAL FLETCHING CLEARANCE
DROP AWAY – 0°
When the bow is fired, the launcher drops away. VDT™, using speed and timing, NOT inertia, passes the capture position and continues to the drop away position. This guarantees total fletching clearance and the most accurate shot possible.


LOCK-DOWN TECHNOLOGY™
When the launcher falls, it locks down in the drop-away position. This guarantees no bounce back and total fletching clearance. It also allows for higher spring tension and clearance on bows shot at over 400 fps.
ANTI- VIBRATION TECHNOLOGY


Reduces noise and vibration, making it one of the quietest drop-aways on the market. Also, the laser cut felt provides a deadly silent draw.
EZ-CLAMP TECHNOLOGY
No serving or bow press is required for setup with this clamp. The clamp is small, light, and simple to use. It is also stronger and more durable than ever before. Simple setup, whether in the shop or in the field.