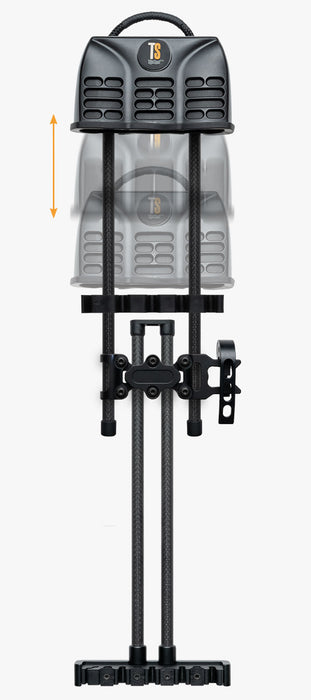 TightSpot Shift Lock
Original price
$199.95
-
Original price
$199.95
THE WORLD'S MOST ADJUSTABLE 1-PIECE QUIVER
The Shift Lock revolutionizes adjustability in a 1-Piece quiver that no other can provide. This mega versatile quiver can be fully extended to maximize arrow security and reduce noise while on the move. The Shift Lock can also be adjusted to an ultra-compact length, or anywhere in between for the treestand or ground blind hunter where space is at a premium, while still providing maximum arrow security.
BUILT-IN HANGER
Features rugged and durable hanging loop for those that prefer to take the quiver off the bow when in the treestand.

TELESCOPING LENGTH
Nearly 9" of overall length adjustment makes this quiver the world's most adjustable 1-piece quiver.

PREMIUM MATERIALS
Only the most advanced materials will do. Fully machined aluminum and woven carbon fiber reduces mass weight while increasing durability in the field.

BULL DOG GRIPPER
Individually adjustable arrow wedges adapt to virtually any arrow diameter. Incorporates a Quick-Draw 2nd arrow feature for quick follow up shots.

OVER-SIZED HOOD
Engineered specifically to accommodate today's largest fixed blade and expandable broadheads, coupled with an internal sound dampening lining.

SECOND ARROW GRIPPER
Extra security for any size arrow and broadhead combination. Fixed blade heads stay sharp, and expendables cannot prematurely deploy.

OVERSIZED DOVETAIL RAIL MOUNT
The patented dovetail design provides better clearance for nearly any arrow rest or sight combination, while maximizing adjustability.

QUICK DETACH
Oversized quick release lever provides easy access for quiver removal. Locks down tight to eliminate noise on the shot.